The District Dispatch
The Monthly Newsletter of Rotary District 6250
April Edition
Important Note: Deadline for district newsletter submissions is the 25th of each month.
The newsletter will be distributed by the first full week of the month.
District Governor's Message
Dear Rotarians,
April is Magazine Month. I pulled out the last six months of The Rotarian magazine as a quick reminder of the varied contents that make it worthwhile reading each month. There is seldom an issue that doesn't have at least one or two articles that I find compelling and informative. This subscription is one of the benefits of our membership. The magazine has both Rotary–specific and general interest articles which I have found frequently contain practical information that we can use in our clubs.
We have a number of things going on in our district that I want all of you to know about. I'll start with an update of that area that seems to be of concern to every club in the district:
Membership: I reported in February that William Pritchard of the La Crosse Downtown club had agreed to serve as chair of the district membership committee. Bill is still in the process of recruiting membership coordinators to assist in this vital work throughout the district. I think at last count he had six and we're now planning a conference call for all of the coordinators to be sure we're sharing a common mission and a common method. If you would like to join Bill's committee or if you would like to inquire about how the membership committee might help your club, please contact Bill. His contact information: William.a.Pritchard@stifel.com or (608) 785-1727. Bill and our Foundation Chair, Joe Ruskey, are visiting clubs together, delivering the message of the ties between our Rotary Foundation and recruiting and retaining members. They have scheduled visits with a number of clubs but are actively soliciting additional engagements. If your club is interested in receiving this important message, contact Bill or Joe, (jruskey@dpndbl.com) and schedule them to visit your club. They are putting together a "membership and foundation tool box" which will be a collection of best practices collected from clubs who have experienced success in recruiting, retention or foundation giving.
Foundation: Joe and his Foundation Committee have conducted two Grant Management Seminars and have a third scheduled for Friday, May 31 at Monona Terrace Convention Center, beginning at 8:00 in the morning. This seminar will be held at the same time as the District Assembly and registration for both is being handled on line at the rotary6250.org website. Be sure that, if you sign up for the GMS, you don't also sign up for District Assembly, because they are happening at the same time. April is a great time for all of us to remember and remind our fellow Rotarians that the time to give to the Foundation is now. Our gifts this year will determine our level of grant making three years from now. All of us who have heard about the changes coming to the Foundation ("Future Vision") are convinced that our clubs are going to strengthened by the new grant making procedures. Be sure that someone from your club has attended a Grant Management Seminar as that is a prerequisite for any club that wishes to apply for a grant. The new foundation grants begin on July 1, so it is likely that the May 31 seminar will be the last grant management seminar that our district will offer in this current Rotary year.
District Training: A great majority of the Presidents Elect of the clubs in the district attended PETS at the Westin Hotel in Itasca, Illinois on March 8, 9 and 10. We also sent the majority of our Assistant Governors who will be serving in the 2013-14 Rotary year to PETS for training. District Governor Elect Dean Ryerson reported that PETS was a great success. For Presidents Elect who were unable to attend, Dean is conducting an alternate training session in Wisconsin Dells. We will conduct our District Assembly on the morning of Friday, May 31 at Monona Terrace, in Madison. There will be sessions for club secretaries, club treasurers, club foundation committee members and club membership committee members. Registration for Assembly is now open.
District Conference:
Our annual
District Conference
is going to be held at Monona Terrace in Madison on May 31 and June 1. We will hold our District Business Meeting on Friday morning, immediately after District Assembly. The District Conference Committee, chaired by Jacqui Sakowski and Robyn Kitson, has an outstanding program planned for us. You can get the details by clicking on the link to the District Conference on this web page. I hope we'll have all of our clubs represented. We have some useful information to impart, interspersed with plenty of opportunities for fellowship.
There is also a special performance of the Broadway musical Wicked on Friday evening at the Overture Center for the Arts, which is a short walk from Monona Terrace. We reserved a block of tickets which can be purchased at a discount, but the show may well be sold out and the reserved tickets are being released early in April.
GSE: Our last Group Study Exchange Team from the state of Saõ Paulo, Brazil will be at District Conference, as they near the end of their month in our district. Our GSE team is expected back from their exchange to Brazil at the time of the District Conference, so we are hoping that they, too, will be at the District Conference.
With the change to Future Vision on July 1, GSE will no longer be sponsored, but is being replaced by Vocational training teams, which we hope will prove even more rewarding and popular than GSE.
Our Clubs: Our provisional club in Madison now has enough members to charter and they are planning their charter event for May. The club has volunteered at the River Food Pantry on several occasions and has, therefore, decided to hold its chartering event at the Food Pantry. The details are not set yet, but we'll be sending out notice as soon as arrangements have been finalized. For all of our clubs, the time remaining in this Rotary year is still sufficient for us to meet our goals, but only if we start immediately and make a concerted effort. I hope all of you can achieve your service, fund raising, membership, foundation and fellowship goals. If there is an area where your club has met or exceeded your goals, why don't you let me know so we can share your success with the rest of the district.
The Traveling Bell: The bell has wintered in Minnesota, courtesy of the Caledonia Club. Surely among us there is at least one club that can scrape up five members to pay a visit to Caledonia and relieve it of the bell. I understand that they have plowed virtually all of the highways in Minnesota, so it is now safe to travel. Let me know when you capture it so we can change the location on our web site.
I look forward to greeting all of you in Madison at the end of May for our District Conference. Registration is open – don't delay.
Your in Rotary Service,
Rob Stroud
District Governor 2012-2013
Rotary District 6250
District News, Events and Announcements


Ethics in action: How do you solve a real-world ethical dilemma?
As appeared in the March 2013 edition of InBusiness.
Dane County students from 19 high schools participated in the Rotary Club of Madison's 13th Annual Ethics Symposium March 1 at the Monona Terrace. Students learned about finding ethical solutions to complicated problems such as bullying and cheating.
Rotary organized the day to provide hands-on experience with professionals that gets students involved and motivates them to interact with their peers.
The symposium is designed to engage students in discussions about ethical issues that occur in everyday life. High school juniors examined the importance of ethics and took part in decision-making exercises designed to prompt debate and introspection.
Click here to read the full article as appears in the March edition of InBusiness.
RYLA 2013, May 17-19, 2013
What Is RYLA?
Established as a Rotary Structured Program in 1971, Rotary Youth Leadership Awards (RYLA) is Rotary's leadership training program for young people.
The Rotary District 6250 RYLA program is a camp designed to build future leaders and Rotarians who exemplify the four way test.
Is it the Truth?
Is it fair to all concerned?
Will it build good will and better friendships?
Will it be beneficial to all concerned?
Where is RYLA?

RYLA is held at the Upham Woods Outdoor Learning Center, Located in Wisconsin Dells, WI


When is it?

The 2012 Rotary District 6250 RYLA Program is May 17 – 19, 2013

Who can attend?

Each year Rotary Clubs can sponsor students from local high schools to attend (it is strongly suggested sophomores be chose, however this is not a requirement)


Adult Rotarians are also always welcome and needed to help facilitate the Conference (and to come have fun!)
The cost to attend the camp is $200.

Chairs
Jeff Odom (La Crosse Downtown Rotary Club): Email -or- Phone: 608-792-7084

Michelle TerMaat-McGrath (Madison Downtown Rotary Club):

Email

-or- Phone 608-241-7107
Future Vision Grant Management Seminar
Seminar Date & Location
Friday, May 31, 2013
Madison, WI
Under the provisions of the Rotary Foundation's Future Vision program, club's desiring to participate in the grant program must be certified. Part of that certification process is attendance at a Rotary Future Vision Grant Management Seminar (GMS).
District 6250 will offer three Grant Management Seminars and the three sessions will be identical in terms of the content that will be delivered. Clubs need only have representation at one of the three sessions. It is recommended that the club president-elect and foundation chair attend the GMS meeting.

At the GMS you will learn:
How to successfully manage a Rotary Foundation grant.
Foundation stewardship expectations
How to prepare clubs to implement the memorandum of understanding
How to qualify your club to receive Rotary Foundation grant funds.
Click here to learn more about dates and registration.
District Leadership Academy Announced
What are the key elements needed to lead a volunteer organization such as your Rotary club?
How do you motivate volunteers?
What are the strategies necessary to conduct an effective Rotary or organizational meeting?
How does a leader face challenges in working with a diverse group of people who are members of the organization?
In addition to the above the
Saturday, April 20 Leadership Academy
program will cover such topics as: leadership succession planning, how to build consensus in making decisions, setting goals, and keeping focus on the bigger mission of the organization without letting the little things get in the way.
These and other related topics will be addressed in District 6250's first Leadership Academy. Participants will receive a number of resources to assist them in leading volunteer organizations. The program will be interactive, providing time for participants to share cheers and challenges from their own leadership experiences.
This program is designed for those who may not have had experience leading a volunteer organization. However, it is open to all interested Rotarians in the District.
This program will be limited to the first 24 registrants. If interest exists the program may be repeated to accommodate that interest.
The registration fee of $30.00 per person includes materials, lunch, and morning coffee; afternoon sodas, and snacks. If a club sends two persons the cost is $50.00; three persons $60.00.
Rotary Gets Ready to Explore Lisbon
Rotarians from around the world gather each year to exchange great ideas, connect with old and new friends, have fun, and advance the work of Rotary.
The 2013 RI Convention will take place in Lisbon, Portugal, 23-26 June.
From the bustling House of Friendship to breakout sessions to preconvention meetings, the RI Convention is your way to connect with the family of Rotary.
Those of us who attend will have the chance to see the broader family of Rotary. Nothing brings home the internationality of Rotary quite like the Rotary Convention.
The RI Convention offers unparalleled opportunities for networking in person with Rotarians who share a commitment to Service Above Self.
Visit the International Convention Website and register today to secure your spot.
Outbound Students Excited for Upcoming Trips
As appeared in the La Crosse Tribune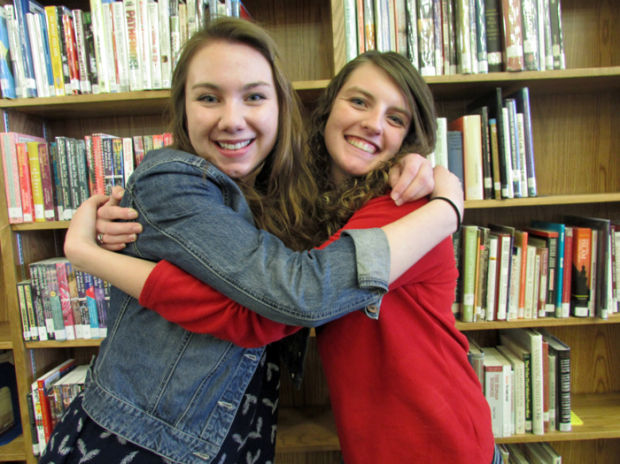 West Salem High School sophomores Madeleine Hedberg, left, and Kayla Adams will take part next year in international exchange programs in Switzerland and Brazil, respectively, through a Rotary Club program.
Photo By Erin Faella and La Crosse Tribune
It's safe to say West Salem High School sophomore Kayla Adams is a bit excited about about her upcoming exchange trip to Brazil next year.
"It's so much fun, and I haven't even gone yet," Adams said.
Adams is one of the two West Salem High School students who will travel abroad next year through the Rotary Club exchange program.
Each year, the local Rotary Club district sends about 20 students to different countries for a school year. Adams and fellow sophomore Madeleine Hedberg will participate in the program next year, the first time two West Salem students have done exchanges in the same year.
For Hedberg, the decision to travel to another country was an easy one. She comes from a long line of Navy sailors, and traveling is in her blood.
For Adams, the decision was equally easy. "I've always wanted to travel," she said. "I thought that going to another country to experience their culture would be awesome."
Adams and Hedberg signed up for the program without knowing which country they would be visiting. They had to write a list of their top 30 countries out of the available countries given to them by the Rotary Club.
Please Help Out Outbound Students
As many of you may know, the cost for families to send their child on exchange is high. Our district has set up the McKinney-Marshall Scholarship to help students who might not be able to go on exchange without financial help. Please consider making even a small donation to this scholarship to help our students.
Please make your check out to Rotary 5250 Foundation and earmark it for the McKinney-Marshall Scholarship. Send it to:
Rotary 6250 Headquarters
2830 Agriculture Dr.
Madison, WI 53718
BE AN ANGEL - Often, we have students who have financial needs beyond what the McKinney-Marshal Scholarship can provide. If you would like to help in a larger way and make a donation to help a student who would not otherwise be able to go, please contact Doug or Sharon Richmond at
richmond6250@gmail.com
or 608 592-5391. The Richmonds are our Outbound Coordinators and can provide you with information on helping a specific student.
Zone 28 News for Districts and Clubs
Click here for the latest edition of the Zone 28 Coordinator Newsletter!
I hope this note finds spring around the corner in your area. The snow has melted like crazy this weekend alone. Now I can finally bring in my outside extension cord - that has been buried in the snow and ice since December.
April brings us to the last quarter of our Peace Through Service Rotary year. I would ask that you take the time to review your District goals set prior to July 1. Have your Clubs supported and embraced the goals you shared at PETS? How are your Clubs doing with their own Membership and TRF goals-those goals they established prior to July 1?
April also brings, for most of you, the beginning of District Conference season. I hope your agendas include opportunities to recognize your Clubs for their successes. District Conferences are celebrations. They celebrate all the good that we have done in our local and global communities.
The PETS that I had the opportunity to attend were FABULOUS! I believe our incoming Presidents are prepared to continue the good works that their Clubs are doing as well establishing goals that will challenge their membership in a meaningful and achievable way.
I have always believed that our primary goal, as leaders, is to leave our organization better than when we began our service. If this is happening, our Rotary Clubs will continue to grow and get stronger, year after year.
Thank you for all that you are doing in your service to Rotary.
Best Regards,
MB
Mary Beth Growney Selene
Zone 28 Rotary Coordinator, 2010-2013
Rotary International Director, 2013-2015

Club News, Events and Announcements
Do you have an upcoming Club Event or accomplishment that you would like to announce? Send your pre-written article to: rotarydistrict6250@morgandata.com. Click view a Calendar of Club Events.
The Rotary Club of La Crosse East Helps Baby Breathe
The Board of the RC of La Crosse East and District 6250 approved a District Simplified Grant application to "help babies breathe" in Nicaragua. The live-saving project supports a one to two day class for people in low resource areas in Nicaragua who care for babies born outside the hospital. It specifically trains people assisting in births to deal with babies who do not breath in the first minute of life, the so-called "golden minute". The birth attendant can then help save the life of the baby with almost no equipment.
Dr. Richard Strauss, Pediatrician and member of the Rotary Club of La Crosse, started this project several years ago in Nicaragua. The Rotary Club of La Crosse East is helping further these efforts by supporting this project of $9,500. This project will provide neo-natal packages, training materials, shipping, interpreters, trainee stipends and other expenses in support of training events to be held in June 2013 in Matagalpa, Nicaragua. The Rotary Club of La Crosse East is donating $2,200 that will be matched with a District 6250 Simplified grant of $1800. The club will also be actively involved with the purchasing and shipping of the neo-natal packages. This is part of a larger effort supported by Dr. Strauss and Global Partners, a La-Crosse based NGO supporting international medical aide projects, who will provide additional funding and coordination.
Submitted by Tom Mickelson, Member, RC of La Crosse East
Rotary Club of Beloit and Rotaract Club of Beloit College Host Peace Forum
Rotary Club of Beloit and the Rotaract Club of Beloit College will host a Rotary Peace Forum to include a gathering at a local peace park with a speaker on the topic of peace followed by dinner and fellowship at a restaurant.
Date: Sunday April 28, 2013
Times:
4:00PM – 5:00PM at the Janesville Peace Park, 2801 Rockport Road, Janesville, WI
5:30PM – 7:30PM at Fuji Sushi and Steakhouse, 2235 Milton Avenue, Janesville, WI
Madison South Recognizes 16 for Paul Harris Fellow
The Rotary Club of Madison South at its regular meeting on Monday, March 4, 2013 celebrated Rotary's 108th anniversary holding a special Paul Harris Day celebration. Club President Chris Yesbeck presented three new Paul Harris Fellow recognitions to Cary Grunder, John Sternad and Christina Podoll for their personal support of The Rotary Foundation.
Also recognized were 13 additional individuals who had reached the next level of giving. A total of 2 PHF+1, 4 PHF+2, 4 PHF+3, and 2 PHF+4 were presented. Those receiving recognition were: Joe Balles, George Croal, Dan Millmann, Ashok Rajpal, Dean Rugotska, Jacci See, Kay Stevens, Greg Stroncek, Peter Williams, Doni St. Marie, Chris Yesbeck, and Kevin Pachucki. Also recognized as a Major Donor was Randy Sproule. This was the second year of celebration, last year honoring 18.
West Towne Middleton Club Visits Illinois Holocaust Museum
"Never Again"

After hearing Holocaust survivor Sam Harris talk about his story and the new Illinois Holocaust Museum and Education Center, Toni Pabon organized an April 1 trip to Skokie, Illinois. Travelers included Toni, husband Frank, son Spencer, Judy and Vic Levine, Ruth Domack, Leo Edelstein, Mary Feldt, Mason Newman, Jeannine Desautels, Lynne Spielman, Rotary Exchange student Patrik Puhtimaki, David Kush and friend Danica.
Adults and bus loads of students come to learn about the 1933-1945 holocaust in Europe.
Docent Laura Schulman and colleagues took us on a guided, 2-hour tour of this striking memorial, a 65,000 foot three-part building designed by architect Stanley Tigerman. Ms. Schulman says the museum's theme "now it's up to you" is similar to Rotary's "service above self."
The museum is open weekdays10am to 5pm (Thursday 'til 8pm) and weekends 11am-4pm.
9603 Woods Drive, Skokie, IL 60077 www.ilholocaustmuseum.org.

RI News
The Rotarian Magazine
The Rotarian Magazine is our link to the greater Rotary world. The pictures and stories tell us of the wonderful work that is being done, in and through Rotary, to make the world a better, safer and a more peaceful place…all because we are advancing the key elements of social justice, health projects, and educational opportunity and alleviating the dire effects of poverty.
A person is not free if they are hungry. A man is not free when he has to watch his children die because of the lack of clean water or adequate food. A mother will not be free if her sick child cannot receive medical care and when people are not free they will seek social justice even if it means going to war to achieve it.
Our magazine, paid for in our RI dues, is not junk mail. It makes you and me "literate" in the great story of Rotary. Read it. Share it with others. Drop it off in a public area where literature is offered, a dentist's reception area, the waiting room at your local hospital or when you go to your accountant's office to pick up your tax filings. Plant the seeds of Rotary by sharing our great story.
Update on Annual Giving
New RI Foundation Donation Forms
Club executive members can now download a Multiple Donor Form that is pre-populated (filled out) with details of club members including their ID number. This form is on Rotary.org at member access. Club presidents and club secretaries have access to this form. Also club treasurers and club Rotary Foundation chairs can get this form if they have been registered on member access by the president or secretary. Select the club members who have donated and add the amount of each donation. The new form makes it easy to forward donations from a group of club members who contribute weekly, quarterly, etc. More Info.
Foundation Reports
Each club in District 6250 has established a foundation goal and the question is how are the clubs going about the achieving those goals? Have each of the clubs done an every member enrollment? Successful clubs take the time to ask each member to make a pledge commitment to the Rotary Foundation. Fulfilling that pledge might involve a quarterly billing by the club secretary/treasurer or participating in the direct deposit transfer from the Rotarians checking account to the RI Foundation account or it might mean a monthly charge to a credit card. Successful clubs establish a process that allows their members to both make and fulfill the commitment.

Click here to view the updated Club Goals Report!
Attendance Report
Reporting Tool for District Attendance
Check out the reporting tool for District Attendance!
Clubs can view each month's attendance in a visual graph. Also Club Secretary's can request access to update their information directly online!
Click here to submit your club's attendance report
Click here to see the full Attendance Report.